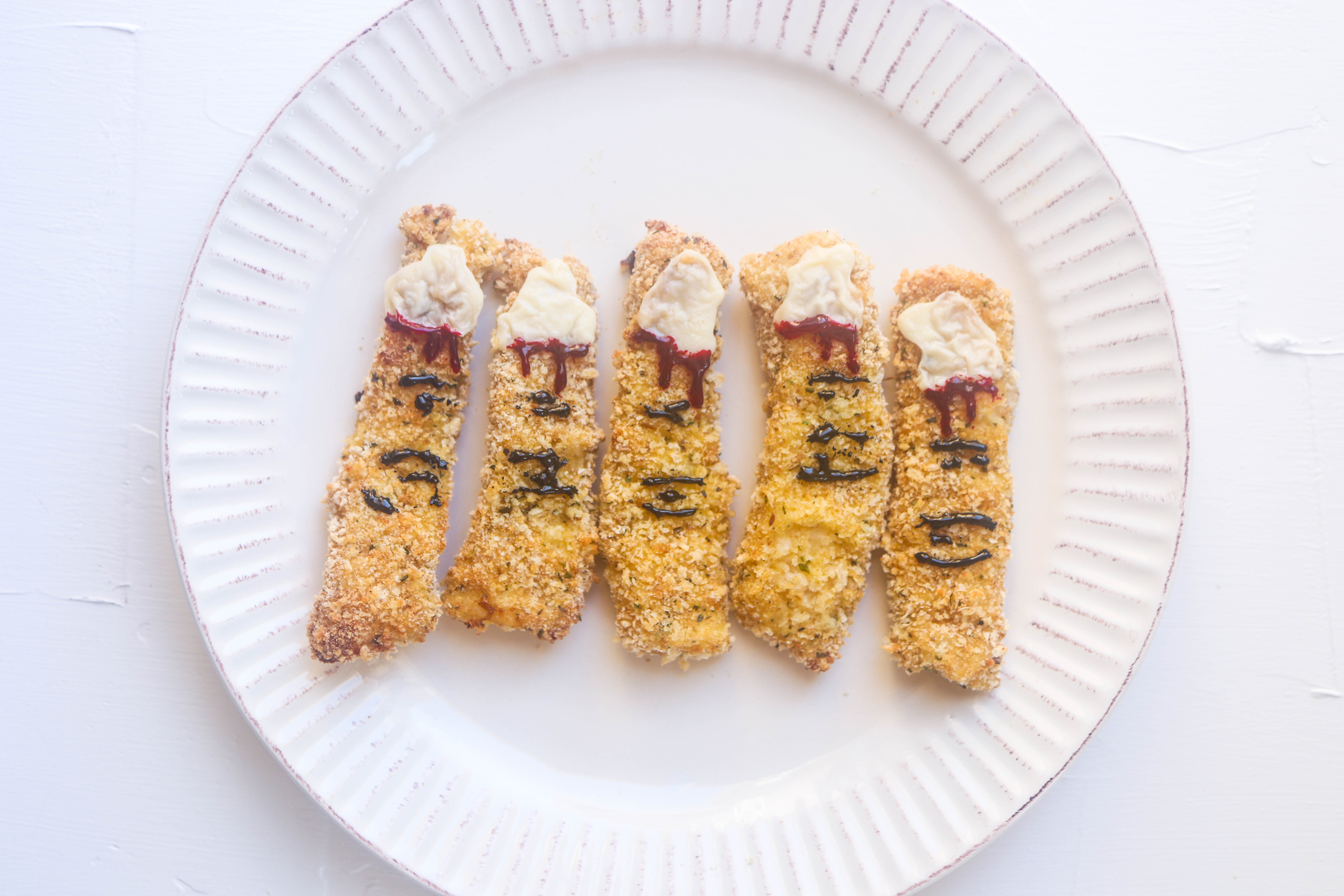 Scary Fish Stick Fingers
Ingredients
1

cup

flour

2

Eggs

beaten

1

tbsp

dijon mustard

1

cup

panic bread crumbs

1

cup

seasoned dry bread crumbs

1

lb

cod loin fillets

cut into strips

1

tsp

salt

1/2

tsp

pepper

1/2

tsp

paprika

cheese singles

black and red food dye

gel based works best
Instructions
Heat oven to 400°F. Spray a baking sheet with oil. Set aside.

Lightly salt and pepper the fish. Sprinkle with a dash of paprika as well.

In a shallow bowl, place the flour. In another bowl, whisk together eggs and Dijon mustard. In a third bowl, combine Panko bread crumbs and the seasoned dry bread crumbs. For the dredging process, press a fish stick in the flour, making sure to cover all sides and shake off the excess. Then, dredge the fish stick in the egg mixture and let the excess drip off. Now, press the fish in the breadcrumb mixture, patting to help the coating adhere.

Place the coated fish stick on the prepared baking sheet and repeat the process with the remaining fish sticks. Spritz the top of the fish sticks with olive oil. Place the fish in the oven and bake 6 minutes. Turn the fish sticks over and spray with oil again. Cook until slightly under done and then remove from oven.

While Fish Sticks are cooking cut your cheese for fingernails. You can simply freehand your cheese nails. Place cheese nails on and continue to bake until fish sticks flake easily.

After completely cooling. You are now ready to paint on your blood. gel food coloring works best. Add on your knuckles using black.

And there you have it. Scary Fish Stick Fingers. Enjoy!