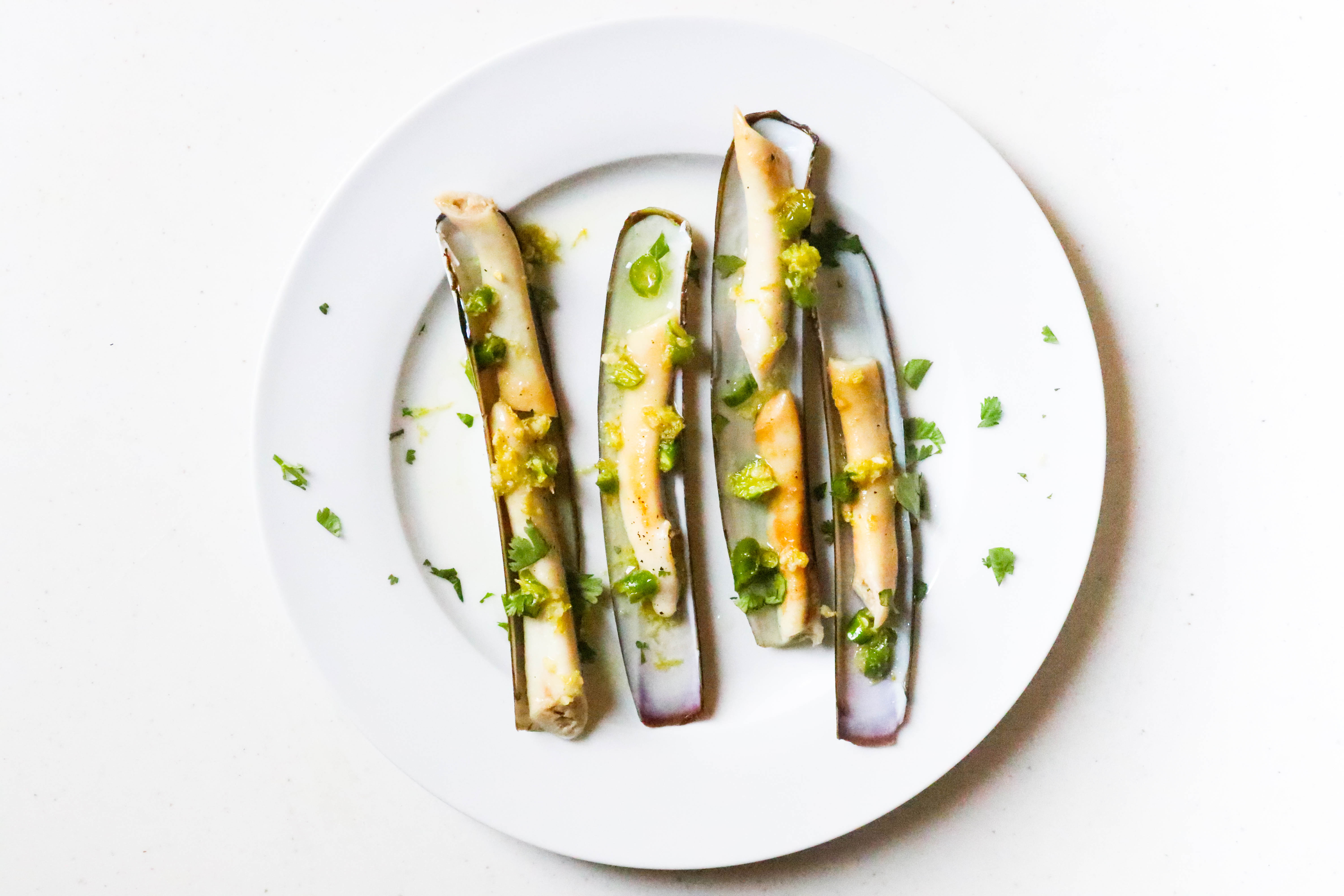 Razor Clams with Chile-Lime Vinaigrette
Ingredients
12

razor clams

3

tbsp

extra-virgin olive oil

plus 1 tbsp more for drizzling

1

zest of a lime

2

tbsp

fresh lime juice

1

tbsp

cilantro

for garnish

3

Thai chiles

finely minced

1

clove

garlic

kosher salt

to taste
Instructions
In a large bowl of cold water, soak the razor clams for 10 minutes. Remove and place razor clams in metal colander. Bring a pot of water to a rolling boil. Dunk razor clams in boiling water for 10 seconds, or until the clams open and the meat easily falls out of the shell. Pre-heat a large cast-iron pan over very high heat for 10 minutes.

In a small bowl, combine 3 tbsp of olive oil, lime zest, lime juice, Thai chiles, and garlic. Season with salt.

Remove the clams from the water and clean them. Place the meat on a work surface and remove the siphon, gills, and digestive track (all the dark parts). Kitchen shears make the job quick and easy.

Sear the clams in the hot pan, with olive oil, gentling pressing with a spatula to brown, about 2 minutes. Do not flip the clams — this will ensure a good sear and prevent overcooking.

Transfer the clams to a serving platter and drizzle the chile-lime vinaigrette over the top. Scatter the cilantro leaves over the clams and serve.