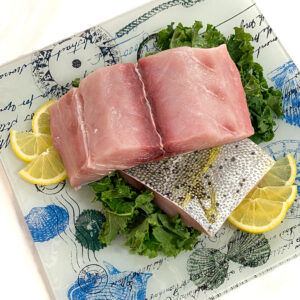 Mahi-mahi in Ginger Scallion Sauce
Ingredients
12

scallions

about 1 1/2 bunches

½

teaspoon

Oriental sesame oil

2

shallots

finely chopped

1

teaspoon

fresh ginger

finely chopped

2 ½

cups

chicken stock

preferably homemade

4

filets of mahi-mahi

8 ounces each, cut 1/2-inch thick (swordfish with the skin trimmed off can be substituted)

Salt and freshly ground black pepper

½

teaspoon

peanut oil

1

tablespoon

fresh lime juice
Instructions
Trim the roots from the scallions. Reserve four of the scallions. Cut the white part off the remaining scallions and chop finely. Trim the green of any wilted leaves and slice into one-inch lengths.

Place the sesame oil in a medium-sized saucepan along with the white part of the scallions and the shallots, and cook over low heat until they soften but do not take on any color. Add the ginger and chicken stock and continue cooking over medium heat until the stock has reduced to two-thirds of a cup. Strain the reduced stock through a fine sieve into a small saucepan, forcing as much of the solids as possible through the sieve. Set aside.

While the stock is reducing, blanch the green part of the scallions for a few seconds in boiling salted water, drain and immediately drop into ice water to set the color. Drain again and puree in a blender, adding a few drops of water if necessary. Remove the puree and set aside, covered, until ready to use.

Preheat the oven to 250 degrees.

Heat a nonstick skillet to very hot and briefly sear the four reserved scallions. Set aside.

Season the fish with salt and pepper. Add the peanut oil to the nonstick skillet and sear the fish for a few seconds on one side, turn and sear a few seconds longer on the other side, just until it begins to take on color but is not cooked completely through. Transfer the fish to a baking sheet and place in the oven.

Bring the reduced stock mixture to a boil. Remove from the heat and whisk in the green scallion puree. Add the lime juice, and season to taste with salt and pepper.

Spoon the sauce on each of four warm plates, spreading it to cover the bottom of the plate. Top with a fish filet and place a seared scallion on the fish. Serve at once.