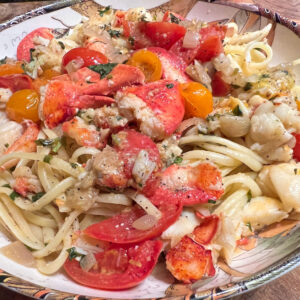 Heidi's Lobster and Linguine
Ingredients
1

tbsp

olive oil

2-3

tbsp

unsalted butter

1/2

cup

dry white wine

1

cup

chicken or lobster broth

2

medium shallots, chopped

4-5

cloves

garlic, chopped

1

pint

grape tomatoes, halved

12-15

leaves

fresh basil, rolled and cut into ribbons

1

tsp

lemon zest

3

1 1/8 lb

cooked lobsters or 3/4 cup lobster meat

1/2

tsp

crushed red pepper flakes, more or less to taste

freshly ground black pepper

salt to taste, depending on broth used

3/4

lb

linguine
Instructions
Remove lobster meat from cooked lobsters over a bowl, reserve any liquid you may have gotten. Cut into bite sized pieces. Set aside.

Begin to heat pasta water. You are going to want the pasta to be ready when your lobster is finished.

Add butter and olive oil in saute pan. You can use all butter and more of it if you prefer!

When heated, add garlic and shallots and saute several minutes. Add white wine, once it begins to bubble add halved tomatoes, lemon zest, crushed red pepper.

When shallots are translucent, add reserved lobster liquid and chicken broth.

When tomatoes have become just slightly cooked, add ribboned basil leaves.

Next add lobster meat. Do not allow lobster meat to boil, keep in pan just till it is warmed through. Taste and season with freshly ground black pepper and salt. Adjust crushed red pepper to taste. Serve over linguine.