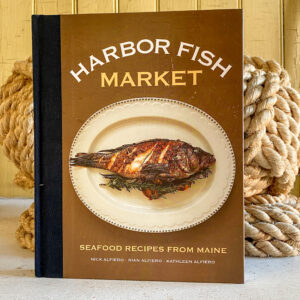 Harbor Fish Market's Scallops with Sage and Brown Butter Sauce
Ingredients
1

lb

fresh sea scallops, rinsed and patted dry

juice of 1 lemon

1/4

cup

olive oil

1/2

tsp

kosher salt or sea salt

1/2

tsp

black pepper

4-5

cloves

garlic, smashed

1

stick

salted butter

15-18

fresh sage leaves

1/4

cup

pine nuts

grated Parmesan cheese
Instructions
Place the scallops in a baking dish. Add the lemon juice, olive oil, salt, pepper, and garlic. Stir to coat evenly. Marinate for 15-20 minutes - no longer. Set the grilll on medium-high heat, or use a grill pan. When grill is hot, cook the scallops, turning once, 2-3 minutes per side. Remove from heat.

In a large saute pan, melt the butter over medium heat. Add the sage leaves and pine nuts. Cook until the butter starts to brown, being careful not to burn the butter. When the butter has browned, add the scallops and coat evenly. Remove to a serving plate and spoon the brown butter sage sauce over the scallops. Dust with grated Parmesan cheese.
Notes
This is a rich dish that can be served as an appetizer or as a main course.  If done as a main course it's best complemented by a side pasta on the same plate.  My favorite is gnocchi with the butter sage sauce spooned over both the scallops and the pasta.  Serve with a side salad and you have a great meal.  Nick Alfiero, from the Harbor Fish Market cookbook.