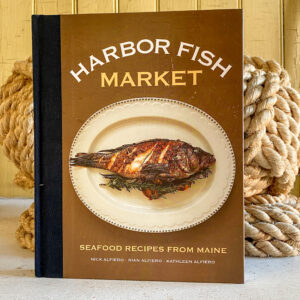 Harbor Fish Market's Roasted Cod Loins with Puttanesca Sauce
Ingredients
1/4

cup

Olive oil

1

-2 ounce

can flat anchovies

4

large garlic cloves, chopped

2

large shallots, chopped

1/2

large sweet onion, chopped (approximately 1 loose cup)

2

cups

zucchini, cut in a half-moon shape

8

oz

sliced mushrooms (approximately 2 cups)

1

medium jalapeno pepper, chopped (optional)

3

cups

chopped plum or cherry tomatoes

1

cup

pitted Kalamata olives, cut in half

1

cup

pitted green olives, cut in half

3 1/2

oz

drained capers

3

tbsp

fresh chopped oregano

1

cup

white wine

3-4

cups

arugula

2

lbs

cod loin
Instructions
Preheat the oven to 375 degrees.

Put the olive oil in a large deep saucepan on low heat. Add the anchovies and cook until they melt down, 7 or 8 minutes. Add the oil from the canned anchovies. Add the garlic, shallots, and onion, and saute until all soften, approximately 10 minutes. Add the zucchini, mushrooms, and jalapeño pepper. Saute for another 5 minutes. Add the tomatoes, olives, capers, oregano, wine, and simmer another 10 minutes. Add the arugula, stir, and heat for another 5 minutes.

Place the cod loins in a large baking dish and spoon the puttanesca mixture around and on top of the fish. Bake for 20 minutes.

When finished, serve immediately as the fish will continue to cook in the hot dish.
Notes
"...The story of puttanesca sauce is derived from the ladies of the night in Naples, Italy.  It is told that these women had to throw whatever was handy, quick, or leftover in a dish to eat quickly between customers. This marriage of the prince of fish to the ladies of the night is perfect!"  -Harbor Fish Market cookbook