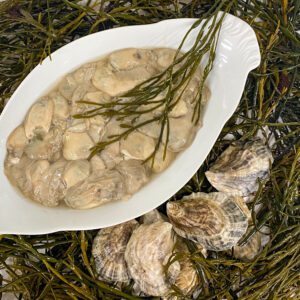 Hangtown Fry with Parmesan and Fresh Herbs
Ingredients
6

eggs

¼

cup

heavy cream

2

dashes hot pepper sauce

1

teaspoon

chopped fresh basil

1

teaspoon

chopped fresh oregano

¼

teaspoon

freshly ground black pepper

⅓

cup

freshly grated Parmesan cheese

divided

1

teaspoon

olive oil

1

tablespoon

butter

12

shucked small oysters

drained

2

tablespoons

chopped fresh parsley
Instructions
Preheat the broiler; place the rack about 5 inches from the broiling unit.

Whisk eggs in a bowl. Add cream, hot sauce, basil, oregano, black pepper, and 1 tablespoon of the grated Parmesan cheese.

Heat oil in a skillet over medium-high heat. Melt the butter in the skillet and swirl it around to coat the pan evenly. Place the oysters in the skillet and brown on both sides, about 1 minute on each side. Let the liquid reduce a bit, about 30 seconds longer.

Slowly pour the egg mixture over the oysters, keeping the oysters evenly distributed in the pan. After about 30 seconds, shake the pan slightly but do not stir. After about 3 minutes when the bottom and sides of the eggs begin to set, sprinkle the remaining cheese on top and place the pan under the broiler.

Broil until the eggs begin to puff around the edges and the top is nicely browned, 5 to 7 minutes. Remove from the oven; sprinkle with chopped parsley. Serve immediately from the skillet in wedge-shaped pieces.