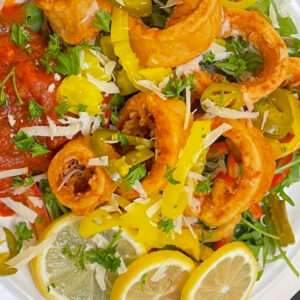 Dave's "No Recipe" Fried Calamari
Ingredients
Calamari

tempura batter (dry)

milk to tenderize

banana and jalapeño peppers

arugula

parmesan cheese

red pepper flakes

salt
Instructions
Clean your calamari, cut tubes into circles.

Tenderize the circles by soaking in salted milk for one hour.

Mix a dry tempura batter with a tsp of baking powder.

Get your oil up to temperature, dredge your calamari in the tempura, and drop them in. Fry until golden brown.

Place the fried calamari on a nice plate of arugula. Garnish with banana and jalapeño peppers, freshly grated parmesan cheese, a little salt and red pepper flakes.

Serve with your favorite dipping sauce such as marinara or a flavored aioli. As Dave would say, "You'll absolutely LOVE it!"