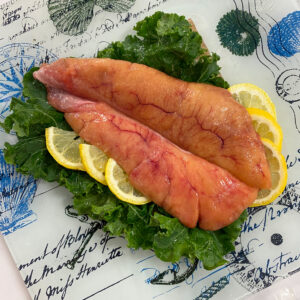 Crispy Shad Roe with Bacon and Capers
Ingredients
Four 4- to 5-ounce lobes shad roe

2 sets, trimmed

1 1/2

cups

buttermilk

6

slices

bacon

1

tablespoon

vegetable oil

1 1/2

cups

all-purpose flour

Salt

3

tablespoons

capers

rinsed, drained and finely chopped

2

tablespoons

minced shallot

2

tablespoons

sherry vinegar

3

tablespoons

finely chopped parsley
Instructions
In a small baking dish, cover the roe lobes with the buttermilk and let stand at room temperature for 1 hour.

In a large skillet, cook the bacon over moderate heat, turning once, until browned and crisp, about 5 minutes. Transfer to paper towels to drain, then break into large pieces. In the skillet, heat the vegetable oil in the bacon fat. Spread the flour in a shallow bowl and season with salt. Remove the roe lobes from the buttermilk, allowing the excess to drip back into the dish. Dredge the lobes in the flour and add to the skillet. Cook over moderately high heat, turning once, until browned and crisp, 5 to 6 minutes total; transfer to plates. Keep warm.

Add the capers and shallot to the skillet and cook over moderate heat, stirring, until softened, about 1 minute. Stir in the sherry vinegar and parsley and season lightly with salt. Spoon the pan sauce over the roe, top with the bacon and serve right away.