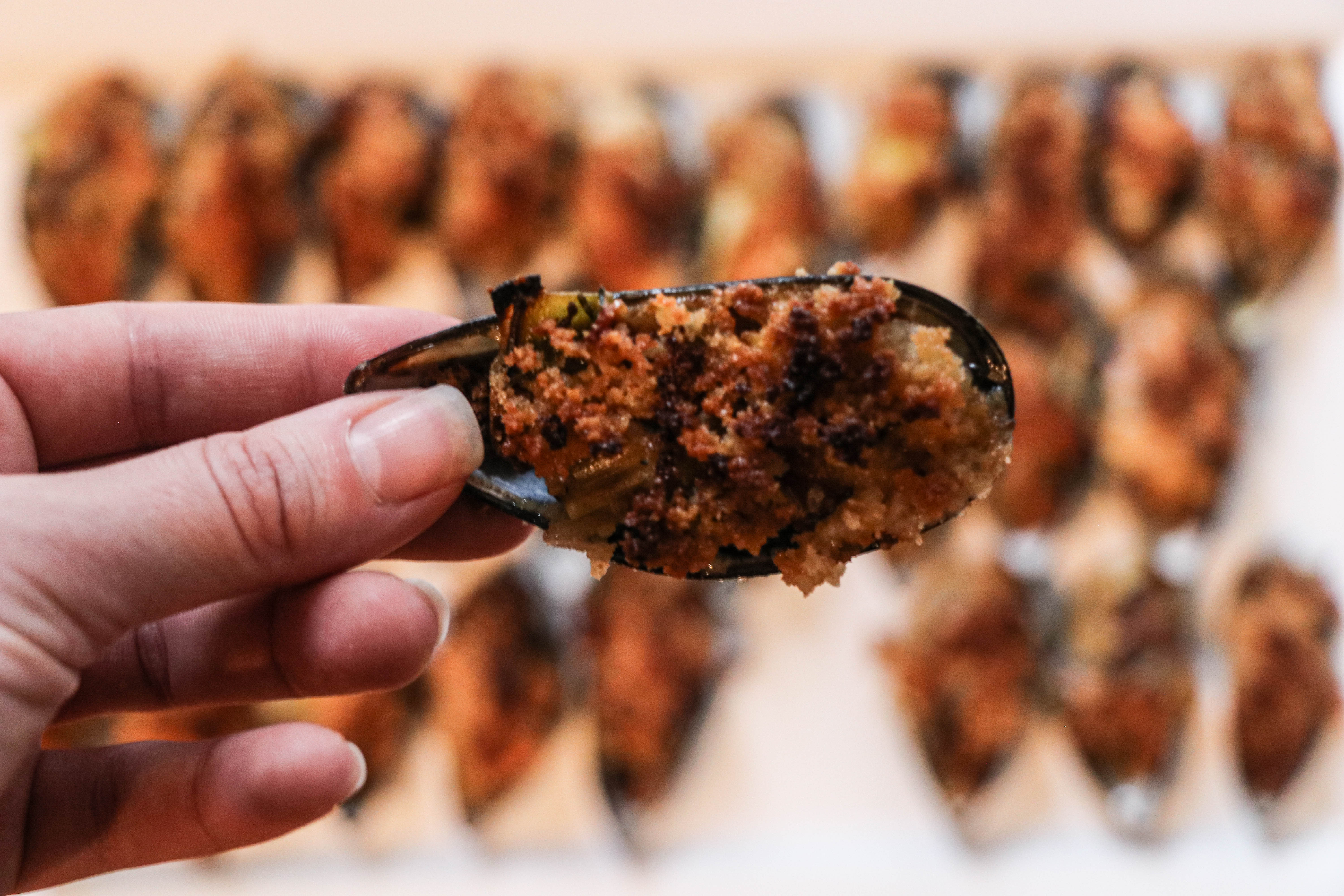 Creamed Mussels on the Half Shell
Ingredients
1

cup

dry white wine 1 shallot

coarsely chopped

2

tbsp

lemon juice

freshly squeezed

1

tbsp

dried thyme

1 1/2

pounds

medium mussels

scrubbed and debearded

3

slices

bacon

crumbled

5

tablespoons

Unsalted Butter

1

medium leek

white and tender green parts only finely chopped

3

tablespoons

heavy cream

salt and black pepper

2/3

cup

coarse dry bread crumbs
Instructions
In a large saucepan, combine the wine with the shallot, lemon and half the thyme. Bring to a boil. Add the mussels, cover and cook over high heat, stirring occasionally, until the mussels open, about 5 minutes. Remove from the heat. Pull the mussels out of their shells and discard half of each shell. Arrange the remaining shells on a baking sheet in 1 layer and place a mussel in each shell. Strain the broth into a glass measuring cup, leaving any grit behind.

In a medium skillet, cook the bacon over moderately high heat, stirring, until browned, about 5 minutes. Transfer the bacon to a dish and pour off all but 1 tablespoon of fat from the skillet.

Melt 3 tablespoons of the butter in the skillet. Add the leek and cook over moderate heat for 5 minutes. Add 1/2 cup of the mussel broth and cook until syrupy, 15 minutes. Add the cream and simmer for a few minutes. Stir in the bacon and rest of thyme; season with salt and pepper. Let cool. Top each mussel with a scant teaspoon of the leeks.

Preheat the oven to 375°. Melt the remaining two tablespoons of butter and reserved bacon fat in a small skillet. Add the bread crumbs and cook over moderate heat, stirring constantly, until golden and crisp, about 5 minutes. Stir in 1/4 teaspoon of salt. Sprinkle the crumbs over the mussels and bake in the upper third of the oven for about 5 minutes, or until hot and bubbling.