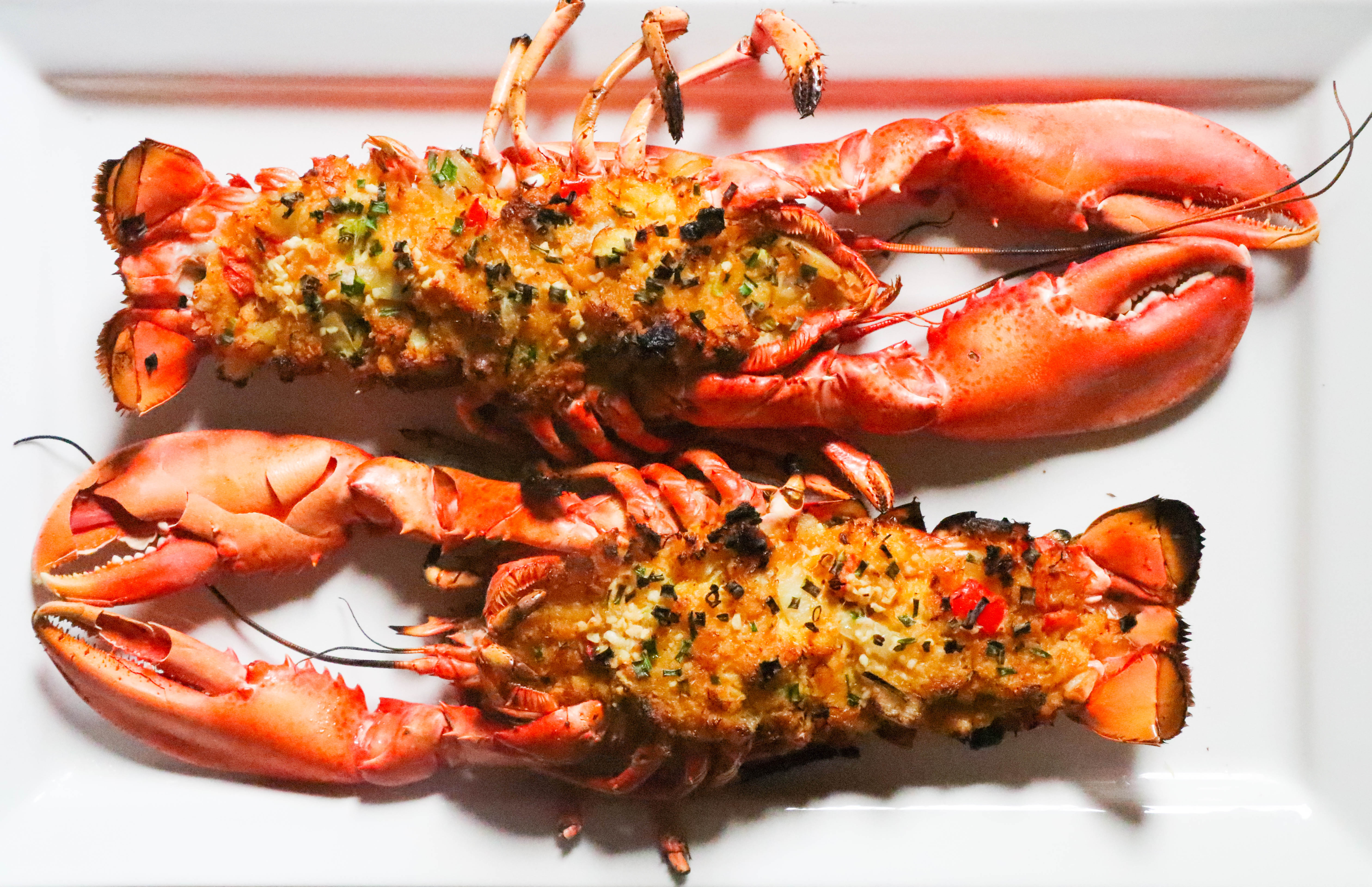 Crab Cake Stuffed Grilled Lobster
Ingredients
8 1-1 1/4

pound

Lobsters

live, uncooked

1

pound

crab meat

1/4

cup

mayonnaise

1/8

cup

mustard

1

sleeve crackers

Ritz or other brand

1/2

cup

chopped onion

1/2

cup

chopped red pepper

fresh garlic

Lots of Butter

chives

optional
Instructions
Make the Stuffing and Steam the Lobster
The crab meat stuffing packs a lot of the flavor punch and is super easy to make. First, sauté the onions and peppers until onions are soft, about 3-5 minutes. remove from heat and let cool.

flake crab meat out of the container with a fork. This keeps any lumps of crab meat from sticking together. Mix crab meat with mayonnaise and mustard. Work in the onions and peppers. Season with salt and pepper as desired.

Crush the sleeve of Ritz cracked using a muddle or back of a spoon. Don't completely obliterate them, crush until only pea-sized or smaller chunks remain. Add the crackers into the crab meat and mix together. Put aside for now.

Chop up 4-5 cloves of garlic. Put them into a small pot with 2 sticks of butter, turn heat on very low. Throughout the next steps, occasionally stir the pot when you have a free hand.
Split and Clean the Lobster
Spread the lobster out on the cutting board, legs down. Split the lobster in half from tail to head. Leave part of shell in tact so that you can spread the lobster open, but it remains together.

Be gentle with the split lobster, particularly between the tail and the body. If you are not careful, they will separate and ruin the presentation.

Remove the internal organs with your hand or a spoon. Wash the lobster halves under running water to remove any remaining innards. Let the lobster drain excess water and place on a large baking sheet.
Stuff and Grill
Using a small spoon, drop a good dollop of crab cake mix into the cavity of the lobster. Press so that it fills the body. Repeat until all of your lobster are stuffed. Top with any remaining crab cake mix and sprinkle with chives if you want to get fancy.

Brush some of the garlic butter across the crab cake mixture. Arrange your lobsters grilling, shell side down for 5 minutes on medium heat. Serve with small cups of garlic butter.