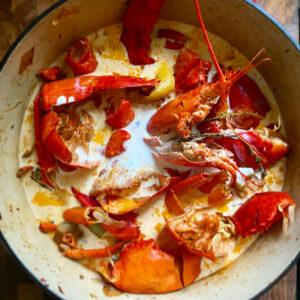 Chef Josh's Lobster Stew
Ingredients
3

each Maine lobsters

1 ½ pounders

Season kosher salt

2

tablespoons

olive oil

½

cup

carrots

chopped

½

cup

celery

chopped

½

cup

fennel bulb

chopped

1

cup

onions

chopped

2

Tablespoons

tomato paste

1

cup

Madeira or Sherry

3

cups

half & half

2

cups

heavy cream

2

teaspoons

sweet paprika

hot paprika will work to if you like it spicy

Season with fresh dill

Season with salt and freshly ground pepper
Instructions
Bring a large pot of salted water to a boil, make sure the pot is large enough to fit the lobsters, or you can cook them in batches.

Cut the lobsters through the head to kill them immediately. Plunge the lobsters into the boiling water and cook for about 6-8 minutes after the first boil. Shock the lobsters in a bowl of ice-water to prevent them from over cooking.

Drain the lobsters and separate the claws and tails from the bodies.

Remove the meat from the tails and the claws. Chop the meat into medium chunks. Clean the meat off and reserve in a refrigerator.

Clean the bodies of any of the tomalley (this would be the "lunch lady green" stuff). The tomalley will just wash off in cool water. Gently remove any of the roe (uncooked it will resemble soft, dark green/black substance, or when cooked it will be bright red and more solid). The roe will add a wonderful flavor and garnish to the stew.

Chop the bodies and legs into smaller pieces.

Heat a large pot on medium high heat. Add the carrot, celery, fennel and onion. Sweat the vegetables until they are soft and starting to brown. Add the tomato paste and stir to combine with the vegetables. Add the lobster bodies and other shells and cook, stirring often for a few minutes.

Add sherry and simmer for 2-3 minutes. Add the half & half and cream and bring to a boil. Reduce heat to a simmer, stirring often, until the mixture is reduced by a ¼ and starts to thicken slightly.

Add the paprika, and season to taste with salt and pepper. Remove pot from the heat and set aside to cool. Once cool, cover and refrigerate overnight.

Bring the lobster shell/cream mixture to a simmer. Strain the mixture into another pot, pressing down on the shell mixture in the strainer to get as much of the liquid as possible. Discard the bodies and solids.

Bring the stew mixture to a gentle simmer.

Add the lobster meat to the stew and heat until warmed through.

Divide the soup between serving bowls and distribute the lobster evenly. Garnish with fresh dill and oyster crackers, enjoy!