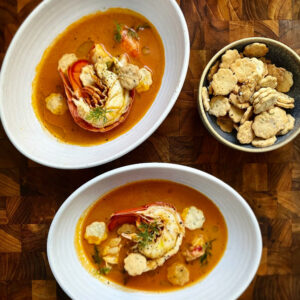 Chef Josh's Homemade Dill Seed & Thyme Oyster Crackers
Ingredients
1

cup

all-purpose flour

1

pinch

kosher salt

1

pinch

sugar

1

teaspoon

baking powder

1

teaspoon

dill seeds

1

teaspoon

fresh thyme

chopped fine

2

tablespoons

butter

cold, box grated into shreds

3

tablespoons

cold water

Season salt and freshly ground black pepper
Instructions
Preheat the oven to 375f degrees.

Sift flour, salt, sugar, and baking powder. Add the dill seed and thyme.

Add the shredded butter and use a pastry cutter mix in (like you are making pie dough.)

Add water and gently mix the dough until it comes together into a ball. Do not over mix.

Allow the cracker dough to rest for 10 minutes.

Using a rolling pin on a lightly floured surface, roll dough to about ⅛ inch thick

Stitch out the dough using a small circle cutter and place the raw crackers onto a cookie sheet pan with a baking mat or parchment paper.

Place the pan in the oven and bake until crackers for 10 minutes. Turn the oven off and leave the crackers inside to cool and continue to crisp, about 1 hour.

Remove from the oven, season with salt and pepper.

Enjoy by themselves or in your favorite soup or stew!