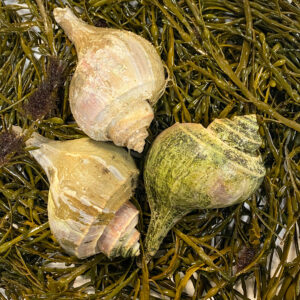 Bahamian Style Pan Fried Cracked Conch
Ingredients
1/2

cup

spiced rum

1/2

cup

orange juice

1

tablespoon

lemon juice

1

tablespoon

lime juice

1

tablespoon

sugar

4

tablespoons

butter

4

conch

Flour

for dusting

1

egg

beaten with 3 tablespoons water, for egg wash

Bread crumbs

Oil

for pan frying

Chopped cilantro

edible fresh flowers, for garnish
Instructions
Remove conch from shell. Cut off any non white meat. Soak the conch in some milk with vinegar (enough to cover it) for at least half an hour. Tenderize by pounding until it resembles a chicken cutlet, but make sure you don't beat it too much that it starts to fall apart. Cut the conch into small bite size pieces.

Combine spiced rum, orange juice, lemon juice, lime juice, and sugar and reduce on high heat until syrupy. Slowly add butter until thick. Keep warm.

Dip the conch in flour, then egg wash, then in bread crumbs. Cook on medium heat in canola oil until golden. Season with salt and pepper. Serve with citrus sauce and garnish with cilantro and fresh flowers if available.