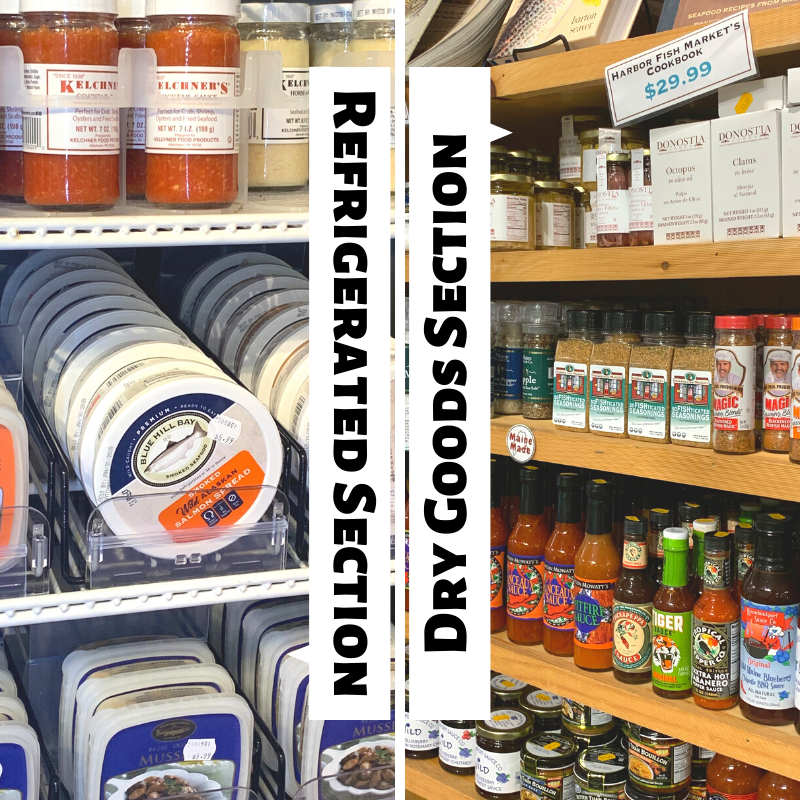 Harbor Fish Market is all about the fresh fish every day…but there are some really great products that
just happen to come in frozen or jarred. When you come in the store, make sure you look in every case, I guarantee there are some items in there that you will love.
The freezer is full of shrimp, octopus and squid. You will also find Alaskan king crab legs, chopped clams and Maine lobster tails. There is seaweed puree, lobster ravioli and yes, squid meatballs (and they are delish). We have a wide variety of chowders, some of them made in Maine. So, browse through the freezer to expand your seafood horizons.
The coolers are also packed with great items. Harbor Fish has a very large selection of smoked fish.
Salmon, sablefish, whitefish, mackerel…and then we have herring in cream sauce. We have trout pate and smoked scallops. Whole sides of cold smoked salmon, too. Cocktail sauces, mustard dill sauce and horseradish, all there in the cooler. Seaweed salads and whole smoked whitefish. And that's not all, come in and its like being a kid in a candy store.
And while you are over there, stop and look at our stocked-full shelves. All kinds of necessities like
seafood broth and lobster base. Maine sea salt and our own Harbor Fish SoFISHticated Seasoning.
Tinned seafood from Spain and jarred seaweed salsa from Maine.
Yes, we have fresh fish daily but we also have so much more!