Are you as excited as we are?! We think this new site represents who we are, and imparts the feeling of walking through our door on Custom House Wharf. Best of all, you can order live lobster to be shipped right in our online store. We know, you're congratulating us on reaching the 21st Century. Well, thanks! We're glad to be here. 🙂 Technology moves a little slower around here, because we're concentrating on the fast pace of keeping fresh, sustainable seafood through our door.
if you've explored the site even a little bit, you've noticed the work of a couple of excellent local photographers, Fred Field and Doug Merriam. We've worked with both on various other projects, and we've (obviously) always loved their work. You can see Fred's work in just about every publication in Maine (and beyond!), and though our favorite of Doug's work can be seen in our cookbook, his photos are also all over the country.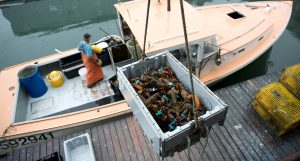 As with any website, we consider this a "living document." We'll be changing, adapting, improving, adding products, sharing recipes, and keeping you abreast of the latest trends in the seafood industry.
if you want the most up-to-date news, sign up for our mailing list, and you'll know the moment we post new products, a recipe, or a how-to video. Also follow us on Facebook, where you'll see our weekly in-store specials, and get exclusive alerts about small-catch quick specials (Maine shrimp, anyone?), holiday hours, and more.
Finally, we're happy to hear feedback from you, our extended family. You can shoot us a message on our contact page, or through our social media.
Thanks for being with us! As always, we're grateful for and proud of our community, in Maine and beyond. It's our pleasure to serve you.