Whether it be for a yankee swap, a hosting gift, or a present from Santa to place under the tree, Harbor Fish Market has plenty of options when it comes to gifts this holiday season. The gift of seafood is one that brings together a group of people to enjoy a delicious, sustainable meal.
There are several ways you can go about giving the gift of fish to your loved ones. The most flexible is the gift card. A Harbor Fish gift card is the most thoughtful gift card one could give,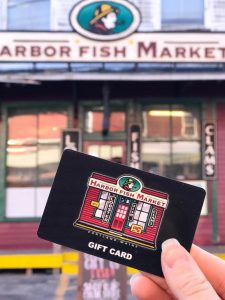 as it allows the recipient to choose what they enjoy most. Lobster? Haddock? Oysters? The choice is theirs to make! You can even purchase a Harbor Fish Market gift card for a loved one in a different part of the U.S. to use on our website to receive fresh seafood shipped straight to their door, how cool is that?
Another thoughtful Harbor Fish Market gift is our newly launched holiday gift boxes! These boxes were hand crafted down to the emblem on the box itself. We truly put a lot of love and thought into how we created these boxes and their contents. The gift box looks beautiful and contains a plethora of goodies! You'll get a handmade wooden box, wood burned with our beautiful logo. Inside you will find a $10 Harbor Fish Market gift card, an HFM hat, an HFM coffee mug, a Bob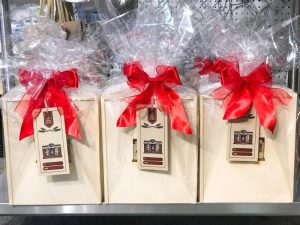 by Cohen HFM Christmas print, our very own HFM cookbook, an HFM branded burlap tote, as well as a coupon for 10% off shipped seafood. We love this package because not only would it make a beautiful gift under the tree, it would also make the perfect hosting gift!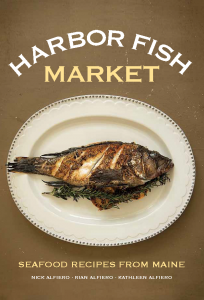 If neither one of those options have piqued your fancy, another item that makes a great holiday gift or hosting present is our Harbor Fish Market Cookbook! This book was created by HFM co-owner Nick Alfiero, his wife Kathleen, and son Rian. Each recipe was hand selected to represent fish in a spectacular way, with the help from select family and HFM community members. Some recipes have been passed down from generation to generation in their family. It's a great way to gain an understanding and see the wonderful family relationship on which they have built Harbor Fish Market.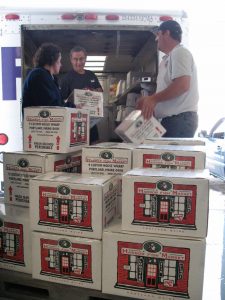 Last but not least we have the least traditional, but totally awesome gift of shipped seafood! If you have a loved one that lives far away but enjoys all of the fresh seafood that Maine has to offer, this is the best gift! Using our online store HERE, you can select the items you want, and have it shipped straight to their door! We love putting together lobster dinner packages for all of our online shoppers. You can even purchase lobster pots and lobster cracker/bib/pick kits for each person! If lobster isn't their thing we have plenty of other options such as haddock, oysters, mussels, smoked seafood, the list goes on and on!
Regardless of your choice, each is a gift that any seafood lover will enjoy. With several options to choose from, you can find a something that fits your recipients individual needs/interests. We bet you can think of someone on your list for each of these gift ideas!
Happy Holidays from all of us here at Harbor Fish!