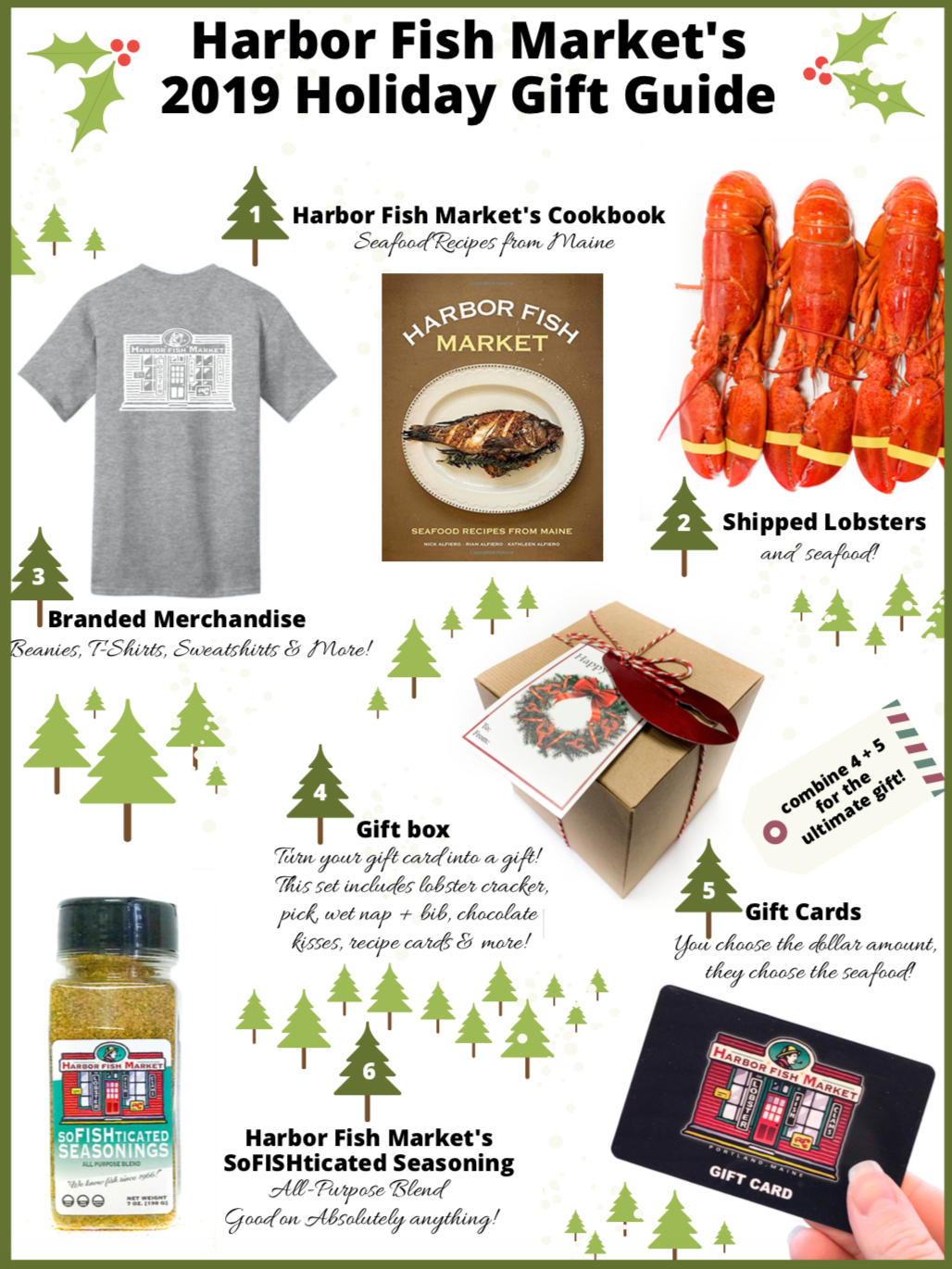 Is it just us, or is it so much more fulfilling to give gifts rather than receive them?  It is crazy to think about, but it is that time of year! We are all thinking about what we are going to give to all the special people in our lives… which is where we come in.  We have a plethora of out-of-the-box gift ideas for you all this year and we are so excited to share them with you!
First up, a traditional gift: gift cards.  You can purchase Harbor Fish Market gift cards in-store or online for any dollar amount you would like.  Gift cards make great stocking stuffers, hosting gifts or just a regular holiday gift as well.  This gift allows the receiver to choose what they want, which can be a very fun experience.  With a big selection of fish fillets, whole fish, shellfish, branded clothing, cookbooks, sauces, seasonings and more… they will have plenty to choose from! AND this year, turn your traditional gift card into a nice little gift. We have the sweetest little gift boxes filled with lobster crackers, bibs, and picks, recipe cards, and a great Harbor Fish bumpah stickah, just waiting for you to add a gift card in the amount of your choice. All tied up with a bow and cool lobster claw gift tag!
Next, our very own Harbor Fish Market cookbook!  Did you know that we have created a seafood from Maine cookbook?  This is an incredible gift for someone special in your life this holiday season.  Any seafood lover would find the content incredibly fun and useful for any time of the year, or any seafood craving they might have.  It is chock full of different seafood recipes, some that are the Alfiero family's favorite recipes, and some that were just too darn good to leave out of the cookbook!
Specifically looking for stocking stuffers? Well look no further than our very own Harbor Fish Market SoFISHticated All-Purpose Seasoning!  Our seasoning is versatile and tastes great on just about anything, including non-fish products.  This seasoning was handcrafted by us, in Maine and only contains the highest quality ingredients.  It would make a great addition to any stocking, holiday gift basket, and more!
Shipped seafood is an amazing gift for the loved ones in your life that live outside of Maine.  What is better than gifting them fresh Maine seafood, delivered overnight right to their door? Perhaps not the most traditional of gifts, but boy is it a good one!  It allows your loved ones to have Maine seafood on their plates this holiday season, which is so special.
In addition to all of these options, we also have a fantastic line of branded merchandise that would make a great gift for any Harbor Fish Market lover!  We have baseball caps, sweatshirts, T-shirts, long sleeves, beanies, aprons and more! Pop into our store and take a peek around, there is something for everyone.  If you are holiday shopping on our website and don't see an item you are looking for, please don't hesitate to call us.  We are great at accommodating orders. Our direct shipping line is 207-775-0251 x 2.